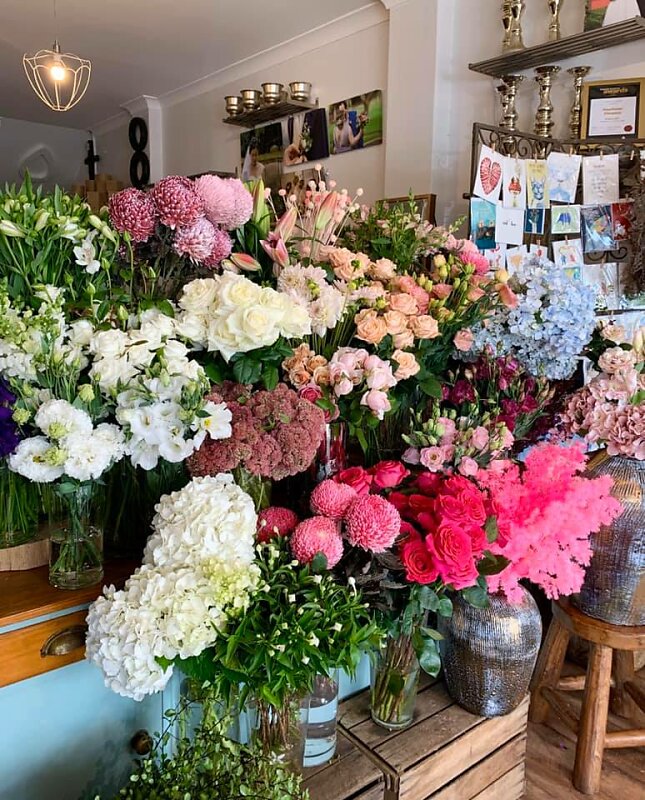 Hi Everyone,
We are living in very challenging times that are calling us all to make extreme changes to how we live our lives, how we relate to others and how we act responsibly to the space we occupy.
We have been working hard behind the scenes to create a framework that should sustain us through this crisis and allow us to keep doing what we love and keep the rest of you a little cheerier.
Our shop is open from 9 am - 4 pm Monday - Saturday, and from 10am to 2 pm on Sunday. For health and safety reasons only 2 customers are allowed in the shop at a time. We are always able to take phone and web orders, and can provide flowers via delivery and pickup (outside our shop).
Besides phone and web orders, we can use FaceTime, WhatsApp or Skype video calls so you can see what's in the shop and choose from our selection - contact us to schedule a video call.

As always, we accept credit cards, PayPal or EFT payments.

Our hours might change as things progress, we will update this web site, Google and social media as we make those changes. We are flexible and happy to accommodate out-of-hours orders and deliveries.

We can deliver locally and to all Sydney suburbs to encourage you all to maintain a safe distance.
We wish everyone good health, kindness, sanity, and humour through this crazy time and of course, beautiful flowers.

---
For those of you who are interested, we have decided to take the following precautions to minimise risk while continuing to operate for as long as is viable:
Only staff and 2 customers are allowed in the shop at any given time
We wash our hands after every customer we serve and bouquet we make
We disinfect our door handles, credit card machines, pens and counter tops after each customer
We disinfect all the money (notes and coins) that enter the shop
We maintain a safe social distance of 1.5m from our customers and each other, and can leave deliveries at the door
We have reduced staffing so only 2 staff are are on any shift to comply with social distancing recommendations
We disinfect the car upon entry and exit when delivering flowers